About Engineered Hardwood
See More about About Engineered Hardwood >>>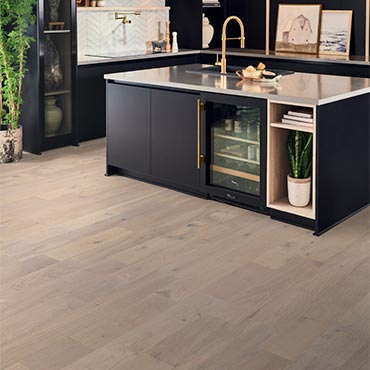 Engineered Hardwood flooring is real wood from top to bottom that's normally made using multiple wood veneers or slats of wood glued together at opposing directions. The word "engineered" just refers to the way in which it's made. There are many benefits to choosing an engineered product over a solid product.
Mannington only produces engineered hardwood and here's why:
√ Engineered hardwoods are made of several layers, or 'plies' that are glued together in a cross-grain construction. This type of construction is far stronger than a single piece of solid wood; and it's also more structurally sound–it won't buckle, gap, cup or twist
√ Engineered hardwood floors can be installed where solid hardwood floors cannot. You can install engineered hardwood below grade and direct to concrete which you can't do with solid hardwood floors. It's so versatile, you can even install it on walls!
√ The top face is crafted from the finest Northern veneers (which is just an industry term for 'top layer') that provide the most uniform color and the most resistance to seasonal expansion
√ Engineered is more dimensionally stable and less likely to warp with seasonal change
From an environmental responsibility standpoint:
√ These floors use half as many trees as solid wood floors
√ Faster growing, renewable wood used for inner plies
√ Mannington's wood facility reuses its mill waste for energy
√ Mannington uses only water-based finishes that contain no VOCs
Mannington uses a formaldehyde free adhesive system that meets or beats the most stringent indoor air quality standards.
---
NOTE:
Floors West Inc does not carry every style of product. Check with us first about a particular product or to see if your product choice is available for special order.
---