Ultimate Guide to Hardwood Flooring
See More about Ultimate Guide to Hardwood Flooring >>>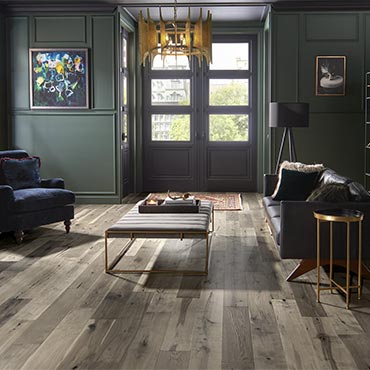 As a leader in the flooring industry, Mannington has put together a guide that details everything you need to know about hardwood floors. Whether you're having a new home built or simply looking to make an upgrade to your home's existing floors, hardwood is a beautiful, durable option! Before you decide on hardwood, here's what you need to know.
Hardwood Flooring Options
There are three types of hardwood floors available to you:


Solid Hardwood Flooring: Solid hardwood flooring is a solid piece of wood from top to bottom. The most popular species are oak, maple, hickory, and brazilian cherry hardwood flooring.


Engineered Hardwood Flooring: Engineered hardwood flooring is real wood from top to bottom that's normally made using multiple wood veneers or slats of wood glued together at opposing directions. Mannington only produces engineered hardwood and here's why:
√ It's the most environmentally friendly. Engineered hardwood uses half as many trees as solid wood floors
√ Engineered hardwood floors can be installed where solid hardwood floors cannot. You can install engineered hardwood below grade and direct to concrete which you can't do with solid hardwood floors.It's so versatile, you can even install it on walls!
√ Engineered is more dimensionally stable and less likely to warp with seasonal change


Composite Engineered Hardwood Flooring: Composite engineered hardwood flooring contains real wood on the wearable surface only. The backing and core material may be made up of any type of composite material.


Benefits of Hardwood Floors
In addition to their natural beauty, wood floors are crafted to stand up to all phases of life.
√ Long-lasting. The life span of a wood floor can exceed 100 years, making it a tremendous value. When they start to lose their luster, some hardwood floors can easily be sanded and refinished multiple times to restore their beauty.As an alternative, if you do not wish to change the color, a screen and recoat process can refresh the coating and restore the luster of the floor. While hardwood floors are long-lasting, they can be prone to indentation because it's a natural product. Keep this in mind while you're shopping and try to find a brand that has extra protection – all Mannington prefinished hardwood flooring have ScratchResist®, Mannington's patented high performance coating, with Aluminum Oxide to help keep floors looking newer longer.
√ Attractive. Whether your home is traditional or contemporary, brand new or centuries old, wood floors offer endless design possibilities to fit your personal style.
√ Easy to clean. Routine cleaning involves sweeping, dust mopping, or vacuuming on the bare floor setting.
√ Allergy-friendly. Hardwood doesn't harbor mold, dust, or animal dander like carpeting does, which makes it better for homes of allergy sufferers.
√ Increase a home's value. According to a Quantitative Evaluation of Real Estate Professionals for the National Wood Flooring Association (NWFA), homes with wood floors sell faster and for more money than homes without them. The study also found that many real estate agents indicate identical homes with wood floors can sell for up to 10% more.
Types of Hardwood Flooring
Wide Plank Hardwood Flooring: Mannington's Normandy Oak series is a stunning, wide plank, white oak features a 7" width and boards up to 7 feet long to create a high end feel to any size home. Subtle wire brushing and distressing is combined with hand applied stains to create a
rustic hardwood flooring look that is ever enduring and quite beautiful.
Hand Scraped Hardwood Flooring: Bengal Bay brings unrivaled beauty from the world's most exotic locales into your home. This sustainably harvested hardwood floor combines a subtle hand scraped texture with distinctive hand staining effects that perfectly accentuate the natural variation found in the Bengali species.
Distressed Hardwood Flooring: Mannington hardwoods such as Chesapeake Hickory flooring capture the look-and feel-of centuries-old reclaimed lumber via subtle gouges, nail holes and saw marks.
Exotic Hardwood Flooring: Mannington brings unrivaled beauty from the world's most exotic locales into your home.
Cleaning & Care for Hardwood Flooring
Keep your hardwood floors looking their best with these cleaning tips:
√ Remove dirt, dust, pet hair, and other debris. Sweep or vacuum regularly, since built-up grit can damage the finish and surface of hardwood. The vacuum head must be a brush or felt type and be certain the wheels of the vacuum are clean and do not damage the finish. Make sure you disengage the beater bar on your vacuum to avoid damaging the surface of your hardwood floor.
√ Use a misting hardwood cleaner to remove the dirt and debris that has built up over time on your hardwood surfaces. Use a cleaner that's recommended by the manufacturer.Make sure it is a cleaner approved for use on pre-finished hardwood.Using a microfiber cloth mop, lightly spray the floor and use the mop to wipe the surface. Remove any excess with a damp or dry cloth - this is an important step, as standing moisture can cause your hardwood to bubble or buckle.
√ Do not use oil soaps, liquid or paste wax products or other household cleaners that contain lemon oil, tung oil or ammonia.
Other Care and Maintenance Tips:
√ Wood is a natural product that lives in a comfort zone of 35% - 55% relative humidity, and between 60 and 80 degrees Fahrenheit. To ensure the long life of your wood floor, the HVAC system should remain active at all times.
√ Keep pets nails trimmed and paws clean and free of dirt, gravel, grease, oil and stains.
√ Use a dolly and protective sheets of plywood when moving heavy objects.
√ Make certain furniture casters and floor protectors are clean and operate properly minimum of 1" continuous width is recommended).
√ Remove shoes with spiked or damaged heels before walking on the floor.
Misconceptions About Hardwood Flooring
Sometimes, hardwood flooring gets a bad rap! Mannington's here to put those misconceptions about hardwood to rest:
√ Hardwood floors are hard to keep clean. Maintenance of your hardwood floors simply requires a sweep! Unlike carpet, which requires a wet solution to get a deep clean, all you need to refresh your hardwood is a broom or dusting cloth.
√ Wood flooring scratches easily. While any kind of flooring is susceptible to scratches, what can look like scratches in hardwood are in the finish, not the wood itself. Unlike tile or vinyl, all it takes is a simple color marker touchup and the hardwood is as good as new!
√ Wood floors get dirtier than other flooring options. Your floors will get dirty, no matter what type of floor you install! The dirt and dust we see on wood floors is the same amount that would collect on other flooring types – it's just not as obvious on tile or carpet.
√ Hardwood floors make a room feel colder. Carpet is a flooring option that can retain heat and help insulate your home, but hardwood floors can do the same. Rich, dark shades of wood paired with the perfect accent rug can create a cozy space that will look and feel warmer.
Hardwood Flooring Installation
Installing wood floors is a lot more complicated than painting your walls or replacing the hardware on your kitchen cabinets, so it is not recommended as a DIY project. In the long run, you will save money and time by using a professional.
Sustainability
Mannington engineered wood floors use half as many trees as solid wood floors and faster growing renewable wood is used for inner piles. Factories are FSC® Chain of Custody certified and mill waste is reused for energy. Most of our hardwood products are FloorScore® certified and all meet-or exceed-the formaldehyde levels set forth in CARB phase I and II (the most stringent emission laws in the world).
Hardwood Flooring Cost
Mannington does extensive research to find premium looks at the right price. For nearly 100 years, Mannington has produced the highest quality flooring at the best price possible. 80% of our hardwood floors are made right here in the USA.
---
NOTE:
Floors West Inc does not carry every style of product. Check with us first about a particular product or to see if your product choice is available for special order.
---